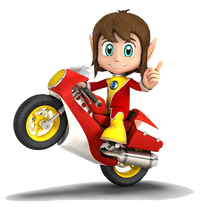 The Sukopako Motorcycle is the signature mode of transportation for Alex Kidd. He is seen riding it in multiple adventures and various spin-off games.
The bike can be purchased from Shops throughout Radaxian for 200 Baums in Alex Kidd in Miracle World. The motorcycle can be won as a prize in Alex Kidd in the Enchanted Castle through beating enemies at Janken matches. Alex also rides the Sukopako Motorcycle in Sega's racing games.
Appearances
Edit
Ad blocker interference detected!
Wikia is a free-to-use site that makes money from advertising. We have a modified experience for viewers using ad blockers

Wikia is not accessible if you've made further modifications. Remove the custom ad blocker rule(s) and the page will load as expected.