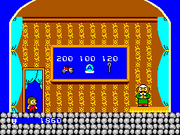 Shops are found all over the planet Aries and are where Alex Kidd bought many items useful in his quest to rid his homeworld of Janken the Great and his evil minions. Items are purchased with the local currency, the Baum.
The following items can be purchased in Alex Kidd in Miracle World:
Ad blocker interference detected!
Wikia is a free-to-use site that makes money from advertising. We have a modified experience for viewers using ad blockers

Wikia is not accessible if you've made further modifications. Remove the custom ad blocker rule(s) and the page will load as expected.