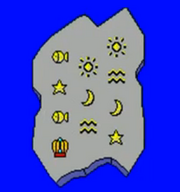 The Hirotta Stone is a symbolic stone presented to Alex Kidd in exchange for a personal letter to king High Stone at the Castle Niban. The stone contains the key to finding The Crown.
Background
Edit
After Alex rescued his step-brother, Igul from the Radaxian Castle, he proceeded to the Kingdom of Nibana with the letter to High Stone to acquire the Moonlight Stone Medallion. However, by the time Alex reaches the kingdom, the medallion has been stolen by Janken the Great. Instead, the King of Nibana, High Stone, gives Alex the Hirotta Stone and sends him in the direction of Cragg Lake, referred to as Lake Deep, to find The Crown.
Reading from top to bottom, right to left, the symbols read:
Sun
Waves
Moon
Star
Sun
Moon
Waves
Gonzo
Star
Fish
(Crown)
Ad blocker interference detected!
Wikia is a free-to-use site that makes money from advertising. We have a modified experience for viewers using ad blockers

Wikia is not accessible if you've made further modifications. Remove the custom ad blocker rule(s) and the page will load as expected.